Our main goal with Hevy is to make working out easier for athletes, and to help them reach their goals. We don't tell you how to work out, or when to work out, that's totally up to you.

To get started, you can easily create a routine from the workout screen as seen below.
You're able to fully customize your routines by creating supersets, adding routine notes, automatic rest timers, and detailed set information. Once you have built a few routines for your workouts, you can easily start them when you are ready.
Logging your workouts is extremely easy, just add the weight and reps values you performed for that exercise, and that's it! We've added helpful checkmark buttons to help you keep track of which sets you actually did. Another super useful feature is that we automatically add your previous performance of that exercise, specifically that set number, so you can make sure you're fully aware of your workout progression.
The best way to keep track of your progress is by diving into your analytics in the exercise detail screen. Here you will find high quality videos of that exercise, and a bunch of statistics around the progress of your exercise, such as volume, your best set, your best weight per session, and the total reps. In addition, here is where you will find your one rep max calculation!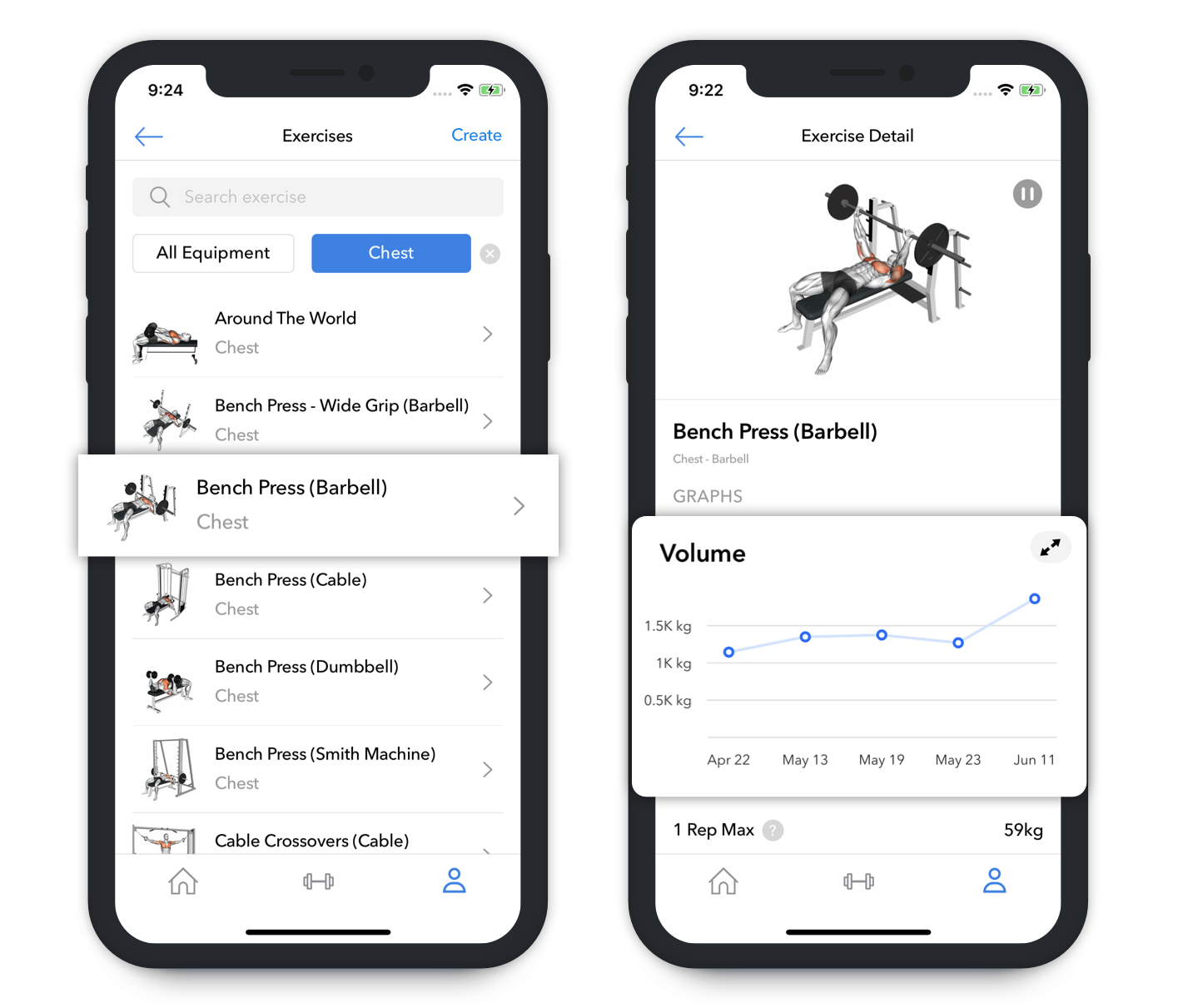 We are proud to have one of the most complete exercise libraries from any workout tracker app, with hundreds of exercises with HQ videos. But no matter how complete our exercise library is, we will never have them all! That's why we also support the creation of your own custom exercises, so you can build up an exercise database specific to your needs.

Tracking your progress over time has really never been easier, in your profile, you will be able to see your total time spent working out, in addition to the total volume you have been lifting throughout all your sessions.
Now for the fun part, interacting with you friends and other athletes! Hevy is the most fun when you are following other people like your gym buddies, family, or other athletes. By going on their profile you can check out their routines, and save them for yourself to try out later.
In your Hevy feed, you'll see the workouts from all the people you follow. This is a great place to interact with them, giving them a like or dropping a comment. Although if you prefer to stay private and only focus on your own workouts, there's also nothing wrong with that 🙂
We're excited to see how the Hevy community evolves, and we'd love for you to be a part of it! If you'd like to start tracking your workouts with Hevy, the download links are below.
Happy training
Guillem